A Lacrosse Weekend 1.7.23
Welcome to "A Lacrosse Weekend" my weekly compilation of thoughts, ideas, stories, myths, truths, about the great game of lacrosse. I hope you enjoy it!
If you are a men's or women's lacrosse player, coach, or parent, I think you will love the weekly content, videos, and analysis.
2022 in Review
I apologize that this blog is coming to you a week late, but I was traveling and coaching in Orlando with JM3 National Teams and just couldn't get it done!
2022 was an amazing year on many levels! It was the 5th and final season for my two older kids, Colin at Georgetown and Emily at ASU. Both teams had great seasons with very sad finishes! Georgetown with a heartbreaking loss to Delaware in the first round of the NCAA Tourney as a #2 seed and ASU's epic NCAA Tourney snub!
So just like that, no more trips to DC and no more trips to Tempe. I have to say I LOVED those trips and I'm going to miss everything about them! The Head Coach and staffs of both programs were incredible, the parent and team cultures were everything you could hope for, the relationships our kids made with teammates and the parents we met made for a special couple (two plus 2020 covid) of years. The crazy thing is both of my kids started at other schools; Colin at North Carolina and Emily at Oregon. I never expected my kids would transfer, but I have to say in both cases it worked out for the best! It's impossible to know if a program is the right fit until you get there, things can change, coaches can change, and making the decision to transfer is a tough one, but they were so happy it was 100% the right move.
Now both kids are off the payroll! Colin is the volunteer assistant at Providence College and Emily is a full time assistant at Stanford!
A Gap Year
Our youngest daughter, Lucy, was a 2021 high school grad committed to Northwestern, but due to the COVID backlog of 5th year grad transfers, she decided to take a Gap Year. I highly recommend a Gap year for anyone / everyone! Whether it's in place of PG year or for a committed athlete who wants to defer. The opportunity to gain independence through real life experiences is the ultimate preparation for being college athlete! A Gap Year is a blank canvas of opportunity for travel, work, internships, living on your own, and of cf course lifting, speed and lacrosse training.
Lucy did the EF Gap Program with a month of service in Costa Rica, a month of internship in Dublin and travel with the group through France, Spain, and London. In the winter she worked at a Starbucks on the morning shift as a barista and had to get up at 430am four times per week. In the spring Lucy moved to Philly, lived with Colleen Magarity and coached for her at Penn Charter. Every day she coached the middle school team, practiced with varsity team, and headed off to coach the Conshehocken Youth Program. Coaching is one of the best ways to learn! Summer was all about training: Tony Holler Atomic Workouts, lifting and the JM3 Training Camps.
The opportunity to come into school physically, mentally and emotionally more mature with a genuine excitement to get started on the academic journey ahead makes a Gap Year powerful. Some folks worry that a gap year would leave an athlete without enough training and playing. First, taking the fall off from all lacrosse while traveling wasn't an issue. She was able to maintain on the lifting and sprinting piece and amazingly, played better than ever when she came back to the US last December in Delray.
Although Lucy didn't play in many lacrosse games in 2022 other than Lake Placid with the 'Cats committed team, she was able to play about 50 days of pick up and as well as 15-20 days of on field training with JM3 Training Camps. These reps allowed her to continue to improve even thought she didn't have a real season.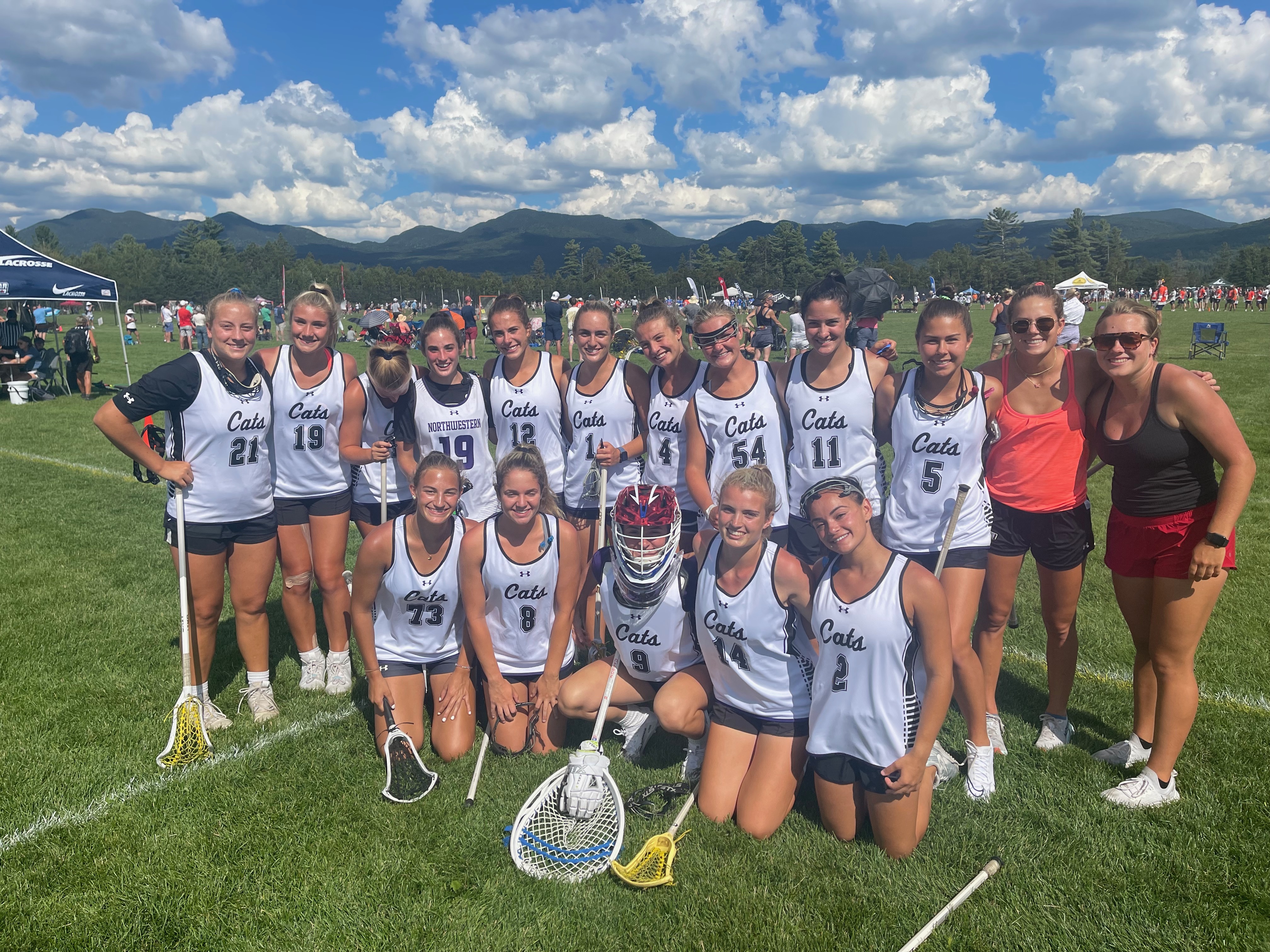 ---
JM3 YouTube Channel
BE SURE TO SUBSCRIBE TO THE YOUTUBE CHANNEL! We have been uploading a ton of content that will help you shift to the next gear.
CLICK [HERE] to SUBSCRIBE TO OUR YOUTUBE CHANNEL
We are in the process of ramping up the content on our JM3 YouTube Channel with videos, webinars, breakdowns, training clips, men's lacrosse, women's lacrosse, box lacrosse, podcasts and more! Over the past five years, I have produced endless instructional lacrosse content and now I'm going into the JM3 archives and sharing some of my all time favorite stuff! Hopefully this will give you a thirst for more! Please note that the YouTube content is the tip of the iceberg. I literally have 15,000 videos on my Vimeo and am creating new ideas, new drills, new games, and advancing new concepts on a weekly basis. Please subscribe to the channel and if you want more, become a subscriber to the CTP!
---
Podcasts in 2022
Although I only produced 27 podcasts in 2022, I think some of the best conversations about lacrosse and coaching I've ever had occurred in the past twelve months. Check out the top 9 podcasts of 2022 and how many listens.
If you haven't listened to the Alex Sarama podcast, do it! Coaches of all levels need to study and learn about the Constraints Led Approach and the Principles Based Lacrosse.
The Mikey Thompson and Tim McCormack will show you how the finest young coaches in the world are taking a holistic approach to their programs!
Nick Myers and Lars Tiffany are two of the smartest most successful coaches in NCAA lacrosse and are incredibly interesting to talk lacrosse with!
Andy Towers, Head Coach of the PLL Chaos and I do a weekly college lacrosse breakdown called the "In Season" podcast that is as entertaining as it is informative about the DI game.
---
Listen to more of the Phi-Lacrosse-ophy Podcast with Jamie Munro >>> www.PHILACROSSEOPHY.com <<<
---
Blogs of 2022
In 2022 I published 47 "A Lacrosse Weekend" blogs! ALacrosseWeekend.com
In march 2023 it will be five years since I started my blog and although it can be a total pain in the butt to produce every Saturday morning, I have to admit that I find it rewarding and fun to share content, new ideas, interesting concepts, stories and amazing lacrosse videos of pro players all the way down to little kids playing the great game of lacrosse. I am probably one of the few people in the world equally interested in men's lacrosse and women's lacrosse and I think it has a lot to do with my love affair with box lacrosse. I have learned an incredible amount from the act of writing this blog and I truly appreciate those that subscribe!
My favorite blog of 2022 was published on March 5th, where I did a Feed The Cats Lacrosse article. I used Tony Holler's Feed The Cats Basketball article and turned it into a "How to" lesson on installing Feed The Cats concepts in a lacrosse season. I can't stress enough how important this information is for any coach. Definitely go back to this and check it out!
---
---
Pick up games of 2022
JM3 Athletes played a record number of pick up games in 2022 with weekly games happening in Colorado, Boston, Rye, Greenwich, Atlanta, Portland, Providence and of course all summer long in Narragansett! I tell my JM3 Athletes and families to set the goal of 35 pick up sessions per year! It is not an exaggeration to say if your kids play pick up this much they will develop insane skill, confidence to make the play that presents itself, communication skills, and slickness usually reserved for the best players in the country.
My favorite video of the year is our annual pick up highlight film! Check it out!
Coaches Training Program
In 2022 we added incredible content to the men's and women's coaches training programs! The Principles Based Lacrosse concepts are the best skills, drills, concepts, and X's and O's you will find on the web! In the men's and women's CTP is all of the traditional lacrosse content imaginable combined with the JM3 cutting edge content of the Constraints Led Approach, Differential Learning, Free Play and more!
2023 Season is Right Around the Corner! If you are a coach, program, or a player and want to be prepared like never before, the Coaches Training Program (CTP) has cutting edge skills, drills, and strategies to take your game to new heights.
There are membership levels for everyone. Check it out at www.jm3sports.com/ctp
In 2022 we hosted two Virtual lacrosse Summits with over 30 webinars in men's lacrosse, women's lacrosse, box lacrosse and more!
Check out this amazing subscription: www.virtuallacrossesummit.com/subscribe
---
My favorite webinar of 2022 is the Backyard Curriculum which I published on our JM3 YouTube Channel. This webinar is my favorite because it shows how to become world class in your backyard. The JM3 Athletes who are using these four critical environments are seeing incredible improvements along with the ultimate joy.
JM3 Athletes
We had an amazing year of working with JM3 Athletes. It is our goal to help each athlete learn how to train as well as to optimize their training, to problem solve their individual situations, advise on all lacrosse and recruiting activities as well as to help with speed training, strength programs and sports psychology. We are seeing phenomenal results from a program that is the most efficient and time effective way to be the best. While most people rack up wasted hours working hard every day, we work consistently and efficiently utilizing the Constraints Led Approach, Free Play, Differential Learning, leveraging a minimum effective dose mentality. Combine this training approach with video review on Zoom calls and we have created the ultimate way for athletes to get better! For more info on the JM3 Athlete Program, email me at [email protected].
JM3 Athlete Commitments in 2022!
Boys: Princeton, Vermont, Dickinson, Holy Cross, Conn College, Denison, Rollins, Oberlin, Brown and Dartmouth
Girls: Northwestern, Denver, UVA, Michigan,Stanford, Johns Hopkins, Northwestern, URI, Bucknell, Stanford, Columbia, Johns Hopkins
We can't take credit for these amazing achievements, but our goal of helping players be the best they can be played a role! Further, our ability to leverage our relationships in both men's and women's lacrosse allows us to get intel, and at the very least get an athlete an appropriate look! Finally, being an advocate to athletes and advisor to parents as they navigate the murky world of college lacrosse recruiting.
JM3 / HHH National Teams
In 2022 we began running National Teams for a few age groups at destination type tournaments designed to be non competitive with the athlete's local club teams. The goal was to create great experiences for players and families through high level coaching, a focus on team play, small rosters, video, zoom calls pre and post tourney, and fun destinations like Sandstorm, Vail, Lake Placid, and Club Nationals. We have emplo in college coaches from Stanford, Providence (you know who they are haha), Christopher Newport, UNC, Northwestern, to compliment our staff of Mike O'Neil, Colleen Magarity, and me.
One of the reasons I wanted to run some national teams was to give the JM3 Athletes a chance to play lacrosse in a real game the way we learn in pick up and Free Play. Picking, passing, Nations Looks etc! The Principles Based offense is not what most clubs run and if you watch the videos below you will se amazing teamwork and the kids who play a lot of pick stand out!
Championships won:
Sandstorm 2022, 28 boys, 25 girls, 27 girls
Vail: 28 boys
This video showing shows how you can install a Principles Based Offense with a group of 2028 boys with no practices! These kids move the ball, pick on and off ball, and play smart!
Club Nationals 29 boys
This 29 boys team played with phenomenal poise!
Winner's Circle 27 girls
If you watch this video you will see a free play model combined with Principles Based Lacrosse in a national team setting where there were literally no practices. Many of these girls are JM3 Athletes, have played a ton of pick up, and understand 2man and 3man games, nations, etc. It's a joy to watch!
30-40 JM3 Training Camp Days
Some of the most fun and best film of the year happens when we bring our athletes together for in person training. Every December we have our Delray Holiday Camp, Colorado Training Camps in June and October, Atlanta training Camp in early June, pop up training in Boston, Greenwich, Providence and Rye, and of course the epic month long training in Narragansett, RI where we play every weekday of the month of July! At these sessions we get to work in person with our JM3 Athletes who get free access phenomenal training. Kids literally get 30-40 high level training opportunities throughout the year just from being in the program!

Something New in '22
For me, my motto of 2022 was "Old Dog, New Trick." We spent our first summer at our beach house in Nantucket, RI and I learned how to Stand up Paddle Surf. You know those people that are crazy for surfing? Now I'm one of them! Surfing is literally one of the most amazing sensations! SupSurfing is also a sick work out. I was never a water guy, very afraid of sharks, and when I started on the paddle board I couldn't go for 60 seconds in the ocean without falling in! However, I made a promise to myself to get in the water everyday and it turned out to be a life changing hobby as well as an incredible full body workout. I've (mostly) gotten over my fear of sharks and I can ride a wave! For all of you old dogs out there, if you want to get in the sickest shape of the last 20 years, learn a new sport, and feel younger, try surfing or SupSurfing! It's a life changer!
---
JM3 SPORTS uses the FreeLap speed timing system with our Athletes along with Tony Hollers Atomic Speed Workout and the results are phenomenal!
Start seeing speed gains in weeks! Get your FreeLap speed timer >>>CLICK HERE <<<
If you want to get Tony Holler's Speed Training for Lacrosse go to this link >>> CLICK HERE <<<
Getting the Most Out of Your FreeLap Timing System >>> CLICK HERE <<<
Be sure to get your own Small Sided Box Lacrosse Goal @ BoxLacrosseGoals.com
Have a great weekend!